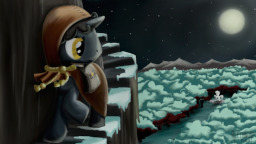 The stars can see the future, and they don't like what they see.
Beset by signs of a great evil approaching on the horizon, Princess Luna and a young unicorn who speaks to the stars set out to uncover and prevent an unknown disaster.
Star Swirl the Bearded: the greatest wizard nopony has ever heard of. Why is that? What did he do? Why do so few now remember that he existed at all, and why do those who do remember him say he was one of the most important unicorns of all time?
A mythical retelling of Equestrian history.
23.02.2014 Featured on Equestria Daily!
Runs concurrently with its sequel, The Education of Clover the Clever.
Cover art by VSabbath, used with permission.
Chapters (20)