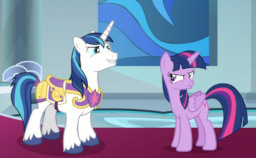 Source
This story is a sequel to For Want of a Horseshoe
---
Shining Armor's younger sister is many things: studious, awkward, devastatingly brilliant, neurotic, and occasionally, the rebellion's unwitting premier magical researcher in the fight against Nightmare Moon.
What she is not, is an alicorn from the future.
No, this Twilight Sparkle is not Shining Armor's younger sister.
That doesn't mean he's not going to tease her mercilessly, After all, she is still Twilight Sparkle.
---
A side story to For Want of a Horseshoe. The events herein happen concurrently with Chapter 7. The other stories in this series can be found below.
1. For Want of a Horseshoe
2. A Big Brother's Duty <-- you are here
3. Healing
Chapters (1)