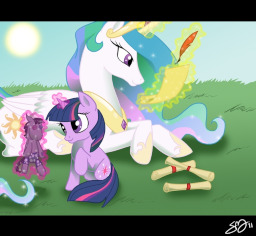 Source
This story is a sequel to Princess Celestia? Do You Have A Belly Button?
---
Twilight Sparkle was Princess Celestia's student for years before she came to Ponyville. What happened during those early years? Read on to find out.
Don't expect anything but short tales filled with filly adorableness. Have any ideas? Let me know in the comments!
Preread by several awesome people including Shiny, Stan, Raiden,ZOMG, Jumbled, andZodiac
If you are interested in more filly cuteness go check out Tiny Trixie Tales!
Twilight is still cutest!
Chapters (19)