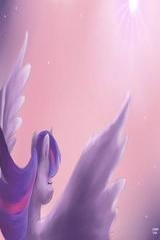 Source
After a long battle with a great evil, Celestia managed to gather the strength and magic to banish them from Equestria. Nopony had any idea she would be trapped as well until she was gone. Ten years to the day and about to be declared dead, there are only three ponies who still fight to find her.
Princess Luna- whose only desire is to hold her sister in her forelegs once more.
Princess Cadance- who wants her aunt back and is willing to do whatever it takes.
Princess Twilight Sparkle- who is willing to sacrifice anything to bring her former teacher and friend home.
After a decade of searching Twilight, along with the help of her two friends and students Sunset and Starlight have found a small glimmer of hope.
Twilight is going to grab hold and not let go. She has a promise to keep
Edited by RK
Chapters (5)