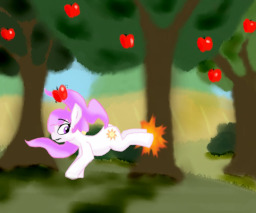 Source
Princess Celestia always thought she knew how her kingdom worked. The Unicorns used magic specialized to their jobs. Pegasi flew in the sky and handled the weather. And Earth ponies... Earth ponies... uhhmmm...
Huh. Maybe Princess Celestia didn't know everything about her ponies after all.
Princess Celestia realized this after Applejack came to speak with her about a tax unfair to Earth pony farmers. It was during their conversation that Celestia realized she needed help.
Huh, isn't that odd Princess Celestia has had to leave on emergency business, leaving Luna to raise and set the sun? And hey, is that a new pony living and working at Sweet Apple Acres? I think her name is Sunshine Meadow. Surely, it's just a coincidence. Surely.
Chapters (6)