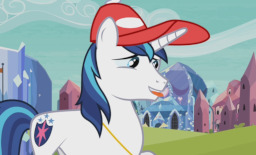 This story is a sequel to Twilight DONE!
---
The day of Shining Armor and Cadance's wedding anniversary is coming. Shining Armor, wants to give his wife a truly exceptional present, so he asks the Royal Guard of Canterlot for help.
Things get very out of hand from there.
---
Remember that Twilight Velvet is the author of the Daring Do books in this fanfic!
---
Proofread by:
• Lucky Roll
• Selbi
• Octavia Harmony
• Chaotic Note
• Missing Link
Chapters (2)