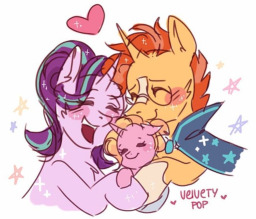 Source
It's a huge step they're taking, and it's going to be hard, and long, and exhausting. But it's going to be worth it in the end, to form a family with him, to be a mother—is like all the pieces of her life are finally falling into place and she's exactly where she needs to be.
Or, Sunburst and Starlight take the plunge and decide to start a family, through adoption.
Edit: added a bit more context into the story to make a certain aspect more obvious.
Chapters (1)