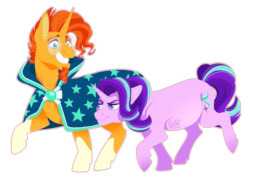 Source
Starlight says she's pregnant, and that she wants to keep it.
And in no way does Sunburst considers himself ready to be a dad. Or so he thinks.
Having a baby is an amazing tool for persuasion, and a effective way to dragged them both, kicking and screaming, from their world of self-absorption and to think about some pony else for a change.
---
Written for the Quills and Sofas Speedwriting PANIC! FICTION! with "Reunion" as the prompt. Edited to reach the word count.
Chapters (1)