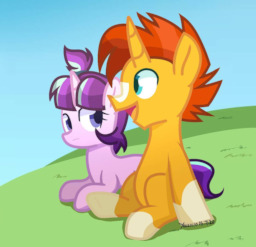 Source
In a small town called Sire's Hollow, young unicorns go there to train every summer, like a magic summer camp.
Starlight Glimmer, born and raised there, meets a young unicorn name Sunburst on one of those summers. It's not quite love at first sight, but a bond is formed and a friendship is steadily cared for over the course of these summers. Sometimes, puppy love grows, maturing into something steady and true, if given the right care.
Starlight has quietly admired Sunset Shimmer's cousin ever since they were kids, but she's having trouble finding the courage to tell him so.
Featured on August 3rd 2019!?

You guys are awesome!
Chapters (15)