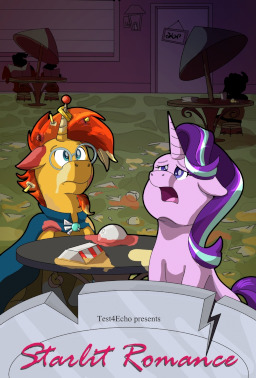 Source
Now that Equestria is finally at peace, Starlight can begin to move forward with her life as the new headmare of the School of Friendship. Thankfully, she has Sunburst to help her out, at least most of the time. And she doesn't spend time secretly following him while he's going about his work. Absolutely not!
As summer is in full swing, Sunburst has accepted an invitation from Cadance to help with some new problems with Flurry Heart. With the clock counting down before he returns to the Empire, Starlight "kindly asks" that the two of them go on a date. Absolutely nothing will go wrong. It's not like the two of them can turn anything into a disaster zone given enough time.
---
Thanks to sneaky_boi and The Bamboozler for pre-reading and giving feedback and EverfreePony for the amazing editing work and getting this to be presentable.
Cover by Little Tigress.
Chapters (5)