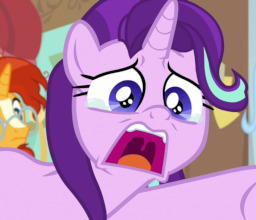 After Trixie threw Starlight Glimmer's plant, Phyllis, into a trash can, Starlight and some of her friends struggle to restart Phyllis's "heart". Princess Twilight Sparkle would go as far as to risk Equestria's existence to save Phyllis's life.
Will Phyllis be saved? Or will there be a plant funeral?
And will Trixie's heart survive the sheer ridiculousness of the "crisis"?
Happens immediately after the season 9 episode "A Horse-Shoe In".
Last but definitely not least, special thanks to flutterJackdash for helping me edit this story.
Chapters (1)