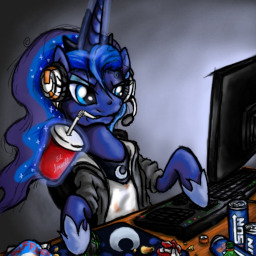 Source
When on a royal visit to Ponyville, Luna spends a night at Twilight's library to play "video games". Enjoying the baubles, she proceeds to venture into the world of online video games, and the not always so fair realm of singleplayer worlds.
Cover image: Gamer Luna, by myminiatureequine (Check out his gallery, he has some other cool stuff, too.)
All ponified pun-names of consoles and video games belong to their respective owners. MLP: FIM and its characters are owned by Hasbro.
Chapters (11)