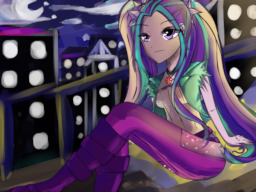 Source
Canterlot is experiencing some of the coldest weather it's had for the past few winters. The Christmas break has just finished and the thoughts of the holiday are starting to fade.
After the first day back to school, Sunset Shimmer runs across one of the Dazzlings, homeless and starving. On such a dangerously cold night, she takes compassion on the Siren and brings her home. Can her experiences help bring Aria out of the gutter? Will the Siren accept her help or, perhaps, her friendship?
Partly influenced by the insanely cold weather that my area experienced earlier this month.
Thanks to AShadowOfCygnus for pre-reading.
Cover art is ~Aria Blaze ~ by lorrainiaful. Used with permission.
Chapters (4)