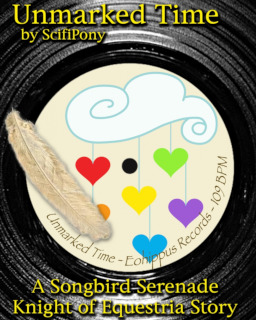 This story is a sequel to Knight of Equestria III: Pizzicato and Changelings
---
Lord Tirek is stealing Equestrian magic. DJ Flopsy Mopsy a.k.a. The Songbird, reluctant secret hero, is heading for Canterlot for what she expects will be her first recording deal. While the princesses have a plan for Tirek, DJ FM puts into effect a more pragmatic solution. Then she meets Discord. Again.
---
Marked teen for fighting and some blood, mostly Flopsy's, but specifically not gore because it isn't. Sometimes when you've got Princess Compulsive Disorder and you fight against overwhelming odds, do or die, you get hurt.
---
Six chapters over six weeks published on Tuesday. All chapters are completed, so read with confidence and press thumbs-up early! Comments also appreciated.
---
Like all the stories in this series, this story is written to be standalone with all important background in the narrative. This is by design and was done as an experiment to practice writing this way. The individual stories were written out of order with "standalone" in mind.
Chapters (6)