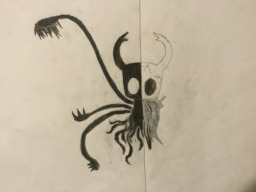 While Hornet mourned the Knight's death, the Pure Vessel awakens in world so strange he can't comprehend it.
But that's not the only thing that's happened to him.
Somehow, he could now feel emotion, something that he knew made him impure.
Even more perplexing, he could now speak!
But, before he can think on what happened to him, he finds himself thrust into a wild adventure so strange to him - and the people of this world - so he hefts his nail and bounds into the light.
This is the story of the new Hollow Knight.
These are the only other stories that crossover with Hollow Knight.
https://www.fimfiction.net/story/421288/a-vessels-journey-prologue
https://www.fimfiction.net/story/422044/a-hollow-tale
I highly suggest you check them out.
Chapters (7)