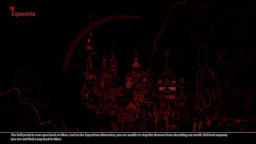 [Second Person Doom 2016 Crossover]
You have broken free from your prison, fought your way through the Resource Operations, the Foundry and the Argent Facility eliminating the demons and finally arrived on top of the Argent Tower, confronting Olivia Pierce herself. She is ready to rupture the Argent Accumulator in order to open a portal between Hell and Mars. You can't let this happen. However, the moment you move she breaks the accumulator, the resulting shockwave knocking you off your feet. A new horde of demons swarms you. You fight them off until a portal opens to Hell and more demons teleport in. As you continue to rip them apart, an other portal opens and you are pulled into an unknown world. However, this new, unfamiliar realm doesn't seem like Hell at all.
Yeah, I know, Doom Eternal is fresh and new, but I started this in 2019 with Doom 2016 in my mind.
Chapters (5)