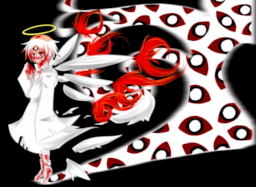 (Crossover Anon-A-Miss and the Kirby 64: The Crystal Shards.)
Two lives that were outcasts after craving of world domination. One life named Sunset Shimmer once turned into a demon in order to rule the lands of both worlds, but was later defeated by Twilight and the gang to stop her. The other life named Zero Two took over some planets like Ripple Star, a planet populated by fairies. Though his grown of power didn't last very long when Kirby teamed up with Ribbon to gather all of the crystal shards and obliterate Zero Two.
This is the story of how Sunset, the former bully at CHS met Zero Two, a fallen Angel with amnesia from outer space.
Chapters (5)