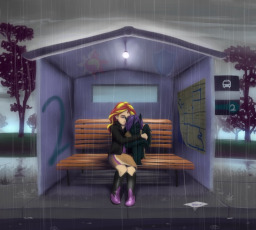 For one so young to be alone such as her would be to throw a child over a cliff. Darkness would surely take her and in the end starvation end her. She was alone in the world, nobody to care for her anymore, and just weeks after a tragedy that led her to this state. She was lost in the world, awaiting a fate she had no concept of.
She was wild when she found her, a little girl in rags, afraid of contact with strangers, with people who had showed her mistreatment since she had come to be homeless and in poverty. Still she took her in, and cared for her. They formed a bond that could be unbroken. A home provided, a person to count on, talk to, and care for her. Somebody to love her for who she is.
---
This is NOT supposed to be a rewrite or copy of Past Sins, some events in the first few chapters may be similar, or have some elements that mirror some of the events. Later chapters will be very different. Please be open minded.
Cover art by - shelbythehedgehog112
Second cover by - Bluest-Ayemel
Preread and edited by Word Worthy (Chapter 01 - Chapter 06)
Rewrites assisted by MixMassBasher.
Nyx, Gray Gale and Spell Nexus were created by Pen Stroke.
Phobos was created by JusSonic
Chapters (6)