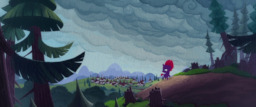 The day had finally come.
Tempest was ready to return to her village, or so she seemed to be; but deep down she was frightened, afraid of the faces that would recognize her, uncertain if anypony she knew had remained, all the while sharing a similar pain with Starlight Glimmer. And now, only meters away from turning over a new leaf, Tempest falters, and leaves Starlight to help her find her courage to move forward.
---
Literally wrote this in three hours. I'm pretty proud of it to be honest.
Chapters (1)