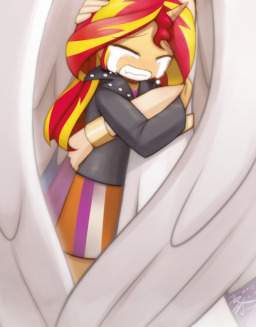 Source
Anon-a-Miss.
Just thinking about it made Morning Star and Shadow Wings' stomachs turn. In four days, a single account had turned Canterlot High on its head once again. Students were fighting in the hallways and cafeteria, breaking off friendships and mocking one another. No one knows who started it, but all fingers are pointing at the most likely suspect: Sunset Shimmer.
The problem is, those fingers are all wrong. Sunset Shimmer is not the culprit behind Anon-a-Miss and it's up to Shadow and Star to find out who is before Winter Break arrives. Working against the clock, the duo have to investigate the goings-on leading up to Anon-a-Miss as well as interrogate the first targets of the cursed account.
"I've said it once, and I'll say it again. High school is literal torture..."
~.~.~
Sex tag for innuendos and violence tag for some punches being thrown.
Written for Diamond Sword. Happy Holiday Season!
Chapters (4)