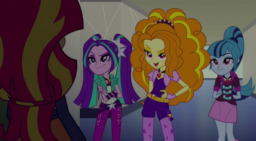 This story is a sequel to Sisterhood
---
The sirens' apartment is nothing special, but it is home. Ever since their failure at the Battle of the Bands it has been a safe haven for the powerless trio. No one knew where to find them. No one was even looking.
And then Sunset Shimmer moved in across the hall.
Editing is finished: Thank you for your patience. Check here to see the changes I've made.
---
Featured on
5/19/2017
5/26/2017
Thanks all!
Chapters (13)