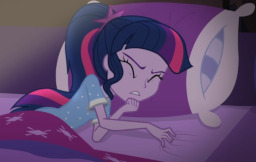 Plagued by doubts regarding her relationship with Sunset Shimmer, Twilight sneaks out in the middle of the night to settle her troubled mind. When she meets a mysterious woman in the park, she may just find more than she ever dreamed of.
Written for the Two-Faced Charade Contest hosted by FamousLastWords.
Pre-read by NaiadSagaIotaOar.
Chapters (1)