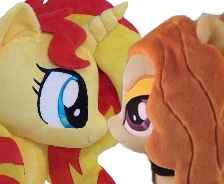 Sunset the unicorn and Adagio the sheep are Sweetie's most beloved stuffed animals. They are also each other's favorite cuddle buddies. When an unfortunate napping incident lands the two of them in the basement, they embark on an epic quest to return to the bedroom where they belong.
---
Written for Oroboro's Sunset Shipping Contest.
Prereading and editing by NaiadSagaIotaOar.
Cover image by forbloodysummer.
Sunset plush by Epicrainbowcrafts.
Adagio plush by Little-Broy-Peep.
Chapters (1)