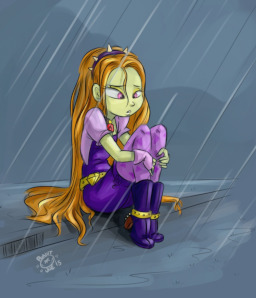 Source
This story is a sequel to Voices Lost
---
Despite still being unable to speak, Adagio's life has been looking up. She's got someone who understands her in Sunset—someone who can listen. So to celebrate their anniversary, Sunset buys a motorcycle to take Adagio on a whirlwind road trip.
But when an old enemy reemerges, Adagio will have to make a choice:
Sunset or her voice?
---
An entry into Oroboro's Sunset Shipping Contest: Journeys
A special thank you to Undome Tinwe for editing help.
Chapters (1)