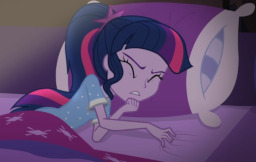 Once, Midnight Sparkle was the demon that haunted Twilight's nightmares. But as new doubts and insecurities drive her away from her lover, Twilight finds comfort in the demon's familiar face. After all, what better escape could there be, but to be someone else?
Written for the Two-Faced Charade Contest hosted by FamousLastWords.
Pre-read by NaiadSagaIotaOar.
Chapters (1)