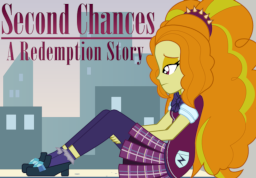 Source
Still reeling from their defeat at the Battle of the Bands, Adagio Dazzle, Sonata Dusk, and Aria Blaze are recruited by Abacus Cinch as her own magical ringers to use against Canterlot High in exchange for a chance to reclaim their lost magic.
But life at Crystal Prep isn't all sunshine and rainbows for the three newest Shadowbolts. Faced with looming deadlines, hostile classmates, and a crumbling partnership with her fellow Sirens, Adagio finds solace with a most unexpected ally.
But when Equestrian magic is on the line, will she follow her heart? Or will her she learn that old habits die hard?
Sirens don't make friends, after all, and they certainly don't fall in love.
Chapters (18)