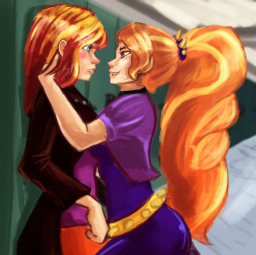 Sunset Shimmer has been accepted by the girls at Canterlot High as a friend and she's learning a lot about friendship. However, she still finds herself missing her old home more often than not. She decides to volunteer her time at the local horse park to try and give herself something to do and reconnect, at least vaguely, with her equine roots.
Before the Battle of the Bands Adagio Dazzle had everything she thought she needed. Ambition, power, loyal-ish minions and her voice. Now, she has nothing. No friends, no magic and no future unless she can figure out how to pick herself up after the defeat of the Dazzlings.
Perhaps fellow failed villain could help her through these tough times?
---
Chapters to be released once per month. Unless life gets in the way.
Chapters (12)