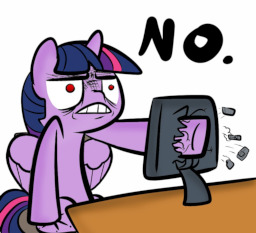 Written for the contest in this thread.
What would you do if you woke up with god-like powers? What if the Goddess you love is without her own magic? What if Pinkie Pie's alicorn fetish was never important, until now? What if you're Twilight Sparkle and nothing makes sense anymore? The Answer: Equestria is sooooo boned.
---
Belated thanks for excellent editing of this beast goes out to Knight of Cerebus.
JKinsley helped with proofreading.
General encouragement/idea bouncing help from Misago.
Chapters (7)