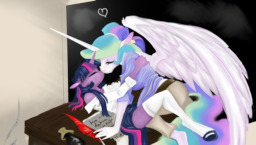 Source
Princess Luna, alicorn of the night and all things therein, sends happy dreams to her saviors on the anniversary of her return from the darkness of madness. One of these dreams belongs to Twilight Sparkle and once again Luna sends her visions of the pony she loves most, Princess Celestia.
Now if only they would come out and say something to each other about it. All the sexual tension in the castle is driving Luna nuts!
It looks like she's going to have to take things into her own hands.
Chapters (1)