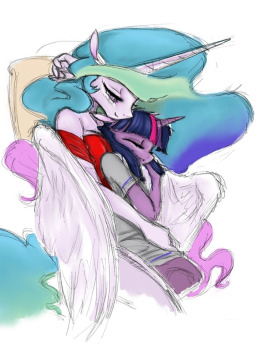 Source
Princess Twilight Sparkle pays one of her rare visits to Canterlot since having moved to Ponyville. Visits that had become even more scarce since her coronation, and her former mentor is all the more excited about every moment she can spend with the young alicorn. The guards and servants seem to share her enthusiasm, though for some reason they seem awfully nervous as well.
As always, the two spend some quality time together, reminiscing about fond memories from when Twilight was a mere child under Celestia's tutelage. But the promising filly had grown a lot since then, and both are tempted to see how their relationship had matured.
---
WARNING: SMUT INVOLVED! If you must know in advance, it's some cuddling and a bit of almost-but-not-quite-kinky tickling. Story is a gift for, and was inspired by a friend, who will remain anonymous.
Chapters (1)