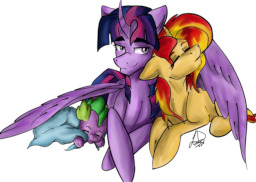 Twilight Sparkle was born weak and frail due to her vast reserves of magic. Yet she has ways of overcoming her weaknesses. She's the student of a Goddess and Death itself, and is the Element of Magic. She's honestly a wonderful pony, that is if you can pull her out of her workshop.
Sunset Shimmer is the daughter of a Goddess and Death itself. Being one of the few naturally occurring Anthros in the world. That makes her more that unique. You'd think she'd be full of herself, with all the power she has at her disposal. Yet she's quite a chill mare. Though she probably gets that from her father.
Spike the Dragon has never met his parents. Yet he takes after them to a strange degree. Most find him rather creepy or unnerving. It doesn't help that he's a snarky little dragon. Despite all this, beneath those black scales, is a passionate and protective heart. He'll do anything to keep those close to him safe.
These are the tales, adventures, and day-to-day lives of these three. These Children of the Gods.
---
Set in the original I Am Become Death... I Am Eternal... cosmology, pre-rewrite. I'm just writing these for fun. They're just going to be little slice of life stories.
Teen for possible sexual conversations and language.
Chapters (2)