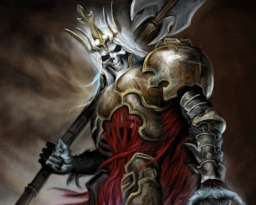 This story is a sequel to The Father of a Chicken goes to Parent-Teacher Conferences
---
You're relatively new to the Equestria and you've only recently settled down in Manehatten. (The amount of ponies who ignore the 12-foot tall armored skeleton is actually surprising.) Needing to find some way to relax and center yourself, Al (the liaison for those who have been displaced) suggests doing something, or going somewhere, to just unwind. So you goes to what you thinks is a concert. Turns out it's an opera. Now that's not entirely a bad thing, You like a few musicals, so how bad can an opera be?
The irony that the opera is called The Call of the King of Skulls is not lost on you thankfully. But who is this Coloratura that wrote it? And Who's that mare that's on the poster? Whoever she is she's beautiful.
Part of the Nexus-verse.
Chapters (1)