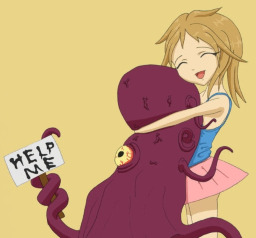 So it's a normal day for me. Dinky's playing Diablo 3 (finally got her into Blizzard), I've managed to get Lyra to play Amnesia, and I..... I'm reading a book...... Twilight gave me a kids book, a How To on magic. No I lied I stole the book from the library because Twilight hates my guts. It doesn't help that I don't understand jack about magic.
My head's killing me. I've had this bad sinus pressure in my head most of the morning, and I DON'T HAVE A NOSE! Seriously I don't even think I have nasal passages!
ACHOO!
"Dad... did you just sneeze out a Loli?"
Well, today got more interesting.
A Crossover between My Life as an Eldritch Horror and I'm A Loli?!?. Not considered canon with the original story, just written for fun. Most of the plot came from aterriblewriter, I'm just writing it


Beware this way lies random. Also, Teen for language, and Sex for some innuendo.
Chapters (1)