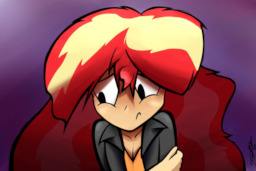 When it turns out you were born with a dual nature that made you a monster in the eyes of some, in need of strict control by others, and miserable to yourself, what do you do when you finally are free to be you again, and all your friends turn on you?
Find someone to vent to who understands your pain.
---
This came into my head today. I had to put it into text. No, I'm not actually that badly depressed today. Just kinda sick and cold medicine hit me hard. Might end up expanding on the universe in another story.
Thad was the editor for this.
Chapters (1)