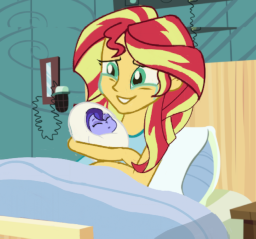 This story is a sequel to The Long Road: Recovery
---
It's been two weeks since Sunset was put on bed rest and now the show is ready to start.
Part of the SciTwi Shimmer Chronicles.
Thanks to Quillian Inkheart and TheWingman for prereading.
---
The original plans were to release this in the first week in July, but decided to release it during Pride Month as a tribute to all the same sex parents out there.
---
Sex tag for brief non-sexual nudity and saucy humor. (Better safe than sorry, right?)
Chapters (4)