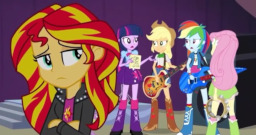 Takes place during Rainbow Rocks.
After being confronted in a dark corner of CHS by the Dazzlings, I begin to wonder if there is truth to what they said.
Part of the SciTwi Shimmer Chronicles
Warning: triggers of self-harm, suicidal thoughts and swearing.
Now with a review from That one RationalCritic.
Update: now with an audio reading on my YouTube channel.
If you or someone you know or love is considering suicide, please contact the National Suicide Prevention Lifeline at 1-800-273-8255. I know from personal experience that it helps.
Chapters (2)