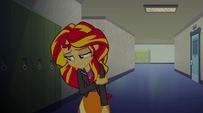 Source
This story is a sequel to Look In The Mirror To Find the Truth
---
Featured August 18, 2019
After her six week suspension, Sunset returns to Canterlot High School. Applejack's forgiveness and friendship have given her a new lease on life and a new mission: to try and make it up to the students of CHS.
But to say that her return to CHS isn't well-received is an understatement. Everywhere she walks, Sunset is treated with hostility, scorn, and quite a bit of torment.
Even Applejack's friends are somewhat divided by her return. While Pinkie Pie, Rarity, and Fluttershy are convinced that Sunset has changed by Applejack, Rainbow Dash chooses to avoid Sunset entirely. She even starts hanging out with the members of CHS' track team rather then her own friends. The very team that harassed Sunset during her community service.
However, one mysterious student holds an especially severe grudge against Sunset. With his/her attacks on Sunset being sadistic, cruel, and threatening to her physical and mental well-being.
Will Sunset escape her predicament? Could her salvation lie with the least likely person?
---
This story is a sequel to Look In The Mirror To Find The Truth, and the second part of my Sunset's Steps series.
WARNING: This story features blackmail, offensive language, sexual assault, fights, and heavy drama.
You can read the other stories in chronological order.
Look In The Mirror To Find the Truth-Completed.
Live By The Sword-Completed.

Working Girl Sunny-Ongoing.
The Downfall of Sunset Shimmer: An Anon-A-Miss Story-Ongoing.
What Happened to Sunset's Family?-Ongoing.
Chapters (31)