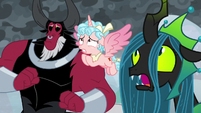 Source
This story is a sequel to A Fate Worse Than Tartarus
---
Featured March 17, 2020
Cozy Glow, the silly filly, once again tried to take over Equestria. This time with the help of her "friends" Tirek and Chrysalis.
She, along with her fellow villains, learn that nothing is more dangerous than the wrath of a fed-up mother.
---
This is my alternate take on the penultimate episode of MLP. All rights reserved to Hasbro.
Chapters (1)