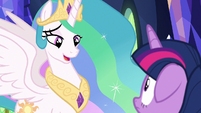 Source
Featured from November 22, 2020-November 25, 2020.
After Chrysalis' defeat, Celestia discovers Twilight's plans to exile herself after her "shameful actions" at the wedding rehearsal.
Celestia decides to sit her student down and tell her how she's worried over nothing.
Once she can stop laughing, of course.
---
In case you haven't guessed it, this is a Canterlot Wedding Accusation Fic.
With a TWIST!
And now....with an audio play by StraightToThePointStudio!
Chapters (2)