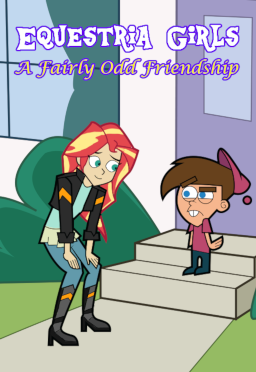 Source
Now with a TVTropes page courtesy of CMR Rosa who helped write the tropes, while his friends created the TVTropes page.
---
After the Battle of the Bands, things have been going good for the Rainbooms. Sunset Shimmer herself has finally gained the acceptance of her classmates. But she feels like she is missing something in her life.
Their peace, however, becomes short-lived. During a basketball game with Dimmsdale High, they witness some buck-toothed boy utilizing powerful magic.
Fearing the boy has gotten his hands on some dangerous Equestrian artifact, one of the Rainbooms steps up to babysit the boy and keep on an eye on him until Princess Twilight can come up with a solution.
However, the kid's secrets go much deeper then that. And, to their misfortune, the Rainbooms aren't the only ones interested in the power he holds...
---
Timmy Turner has the struggles not typical of 10 year old boy. On top of dealing with bullies, evil babysitters, and evil teachers, he must also keep his fairy godparents a secret.
When Vicky goes away for three weeks, Timmy sees this as a time he can relax. Much to his consternation, however, his parents hire a temporary babysitter. While she and her friends seem nice enough, Timmy will learn there is more to them then meets the eye.
And as other forces close in on his fairies, the Dimmsdale Elementary School student must decide who is friend and who is foe.
---
Equestria Girls: A Fairly Odd Friendship is an Equestria Girls/Fairly Oddparents fusion fic.
Set between Rainbow Rocks and Friendship Games. Also set around season 5 of FOP (with some changes to canon). This is after Channel Chasers and before Poof.
All rights are reserved to Viacom and Hasbro.
Chapters (46)