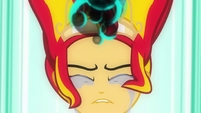 Source
Featured from 8/9/2019 to 8/10/2019.
---
After the Fall Formal, Sunset Shimmer's reign over the school had come to a shattering end.
Everyone at school no longer feared the cruel girl, and some chose to torment her at every opportunity.
Even the Rainbooms, despite the orders given to them by the Princess of Friendship, were reluctant to befriend the former bully.
While delivering her goods one early morning, Applejack encounters Sunset doing her community service. Despite her own anger toward the former Queen Bee, Applejack can't help but notice the complete shift in Sunset's demenaor: her pride and arrogance have been replaced by sorrow and shame.
Driven by her own curiosity, her promise to the Princess of Friendship, and a small desire to extend an olive branch, Applejack approaches Sunset during her community service, asking her why she's acting so broken up. Sunset tells her that she went through the most painful thing imaginable: being forced to see oneself with objective clarity.
Will Applejack befriend Sunset, or will her anger toward Sunset overwhelm her compassion?
*****
This fanfic is my own take about how the Elements of Harmony work, and why they managed to change Sunset so quickly. This is partly inspired by Fallowsthorn's Time.
This is the beginning of a series I call Sunset's Steps. I wanted to explore Sunset's redemption a bit, and use the series to see how she got to where she was by Rainbow Rocks.
Rated T for language and depictions of bullying.
Chapters (4)