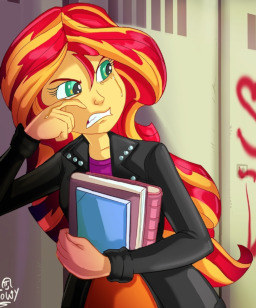 This story is a sequel to My past does not define me
---
It's been one month since Anon-A-Miss' reign of terror through the school. One month since the school was divided. One month since Sunset was framed and persecuted by her fellow students. One month since the CMC admitted their involvement, and were punished.
Sunset should be thrilled, after all her name was cleared and everyone's been bending over backwards to make it up to her. This should be something that brings the entire school together and make her friendships stronger.
But it hasn't.
Sunset feels more alone than ever now. Having lost all trust for the girls assigned to teach her and believing her past will always haunt her, no matter how much she tries to show she's changed.
With the Friendship Games coming up, can CHS band together and defeat Crystal Prep? Will Sunset be able to forgive her fellow students and friends? How is the CMC going to make up for their mistake?
---
Featured November 17th, 2021
Chapters (51)