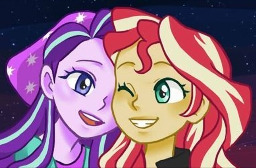 Source
Starlight Glimmer (or at least the human Starlight Glimmer) was defeated and offered a second chance the same way her counterpart was. But just like her counterpart, Starlight is reeling from the regret of everything she did, made even worse since she's a teenage girl still recovering from the highs magical corruption brought her to.
After Starlight flakes on meeting up with Sunset and her friends one day, Sunset makes her way to Starlights home and forces a talk between the two of them to figure what's going on with her, talk things out, and perhaps... becoming something more?
---
My entry for Reactceptions Unseen Villains shipping contest.
Chapters (1)