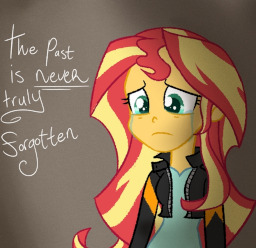 Source
This story is a sequel to Playing with Fire
---
How does one recover from falling below rock bottom?
That's what the former queen bee of Canterlot High will have to answer, ever since the events of her Junior year Fall Formal. In under an hour, Sunset Shimmer had fallen from the most feared girl in school to the most reviled. Now, nobody is afraid of her, and they're going to let her know every day till they graduate.
Sunset however seems, surprisingly, regretful of who she was, and she's desperate to make up for everything she did. It'd too bad no one will ever giver her the light of day, especially after she turned into a demon. How does one live that down?
And these girls, the ones who caused all of this in the first place, why are they making the effort to reach out to her? She broke apart their friendship. She bullied them all relentlessly. She nearly killed them.
They should hate her the most!
Yet... they provide her with something she's desperately lacking: hope.
Chapters (7)