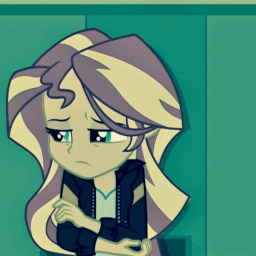 What if Applebloom hadn't admitted to being Anon-a-Miss when she did?
This is the story of the aftermath of what might have happened, Sunset's recovery from the trauma of abandonment and resulting depression, and the road towards healing and forgiveness. There will be roadblocks, detours, and maybe even engine troubles, but through friendship, Sunset's wounds may yet be mended.
/x/x/x/
Third person. Present tense (except for flashbacks which may be written in past tense). Profanity tag for up to f*ck. Sex tag for mentions and discussion of sexual activity (both heterosexual and homosexual). Suicide / Self Harm tag for suicide attempt and frank discussion of cutting. Contains related B-plots about Rarity, Flash Sentry, Scootaloo, and Rainbow Dash. Contains Dark themes; not enough to sufficiently justify tagging as such, but enough to make a note of. Contains mentions of cannabis use.
My aim with this fic is to modify and adapt the comic into something a) written better, b) not candy coated, and c) somewhat attuned to how social media actually works, while still remaining faithful to both canon and the rest of my Equestria Girls fanfic chronology (which includes my other fics Stupid Girl, Milkshake, TFW YFYCN, etc).
Thank you for getting me featured! ❤️
Thank you for 200 likes! ❤️
Thank you for 300 comments! ❤️
Chapters (12)