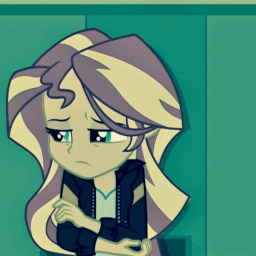 [description slightly updated 10/10/22]
What if Applebloom hadn't admitted to being Anon-a-Miss when she did? What if Sunset took the situation to extreme measures? And what if the Crusaders never stopped posting…?
This is the story of the aftermath of what might have happened, Sunset's recovery from the trauma of abandonment and resulting depression, and the road towards healing and forgiveness. This is also the story of why Anon-a-Miss continued to function long after the intended purpose was completed. There will be roadblocks, detours, and maybe even engine troubles, but through friendship, Sunset's wounds may yet be mended. However… as the one behind the wicked veil of anonymity continues to wreak havoc, who else will be hurt due to her desire for vengeance? Why does she seek it, and for what is it sought for? When the collateral damage inevitably collapses under its own weight, Sunset will not be the only one bearing scars.
[END OF PLOT SYNOPSIS & HOOK]
/x/x/x/
Third person. Present tense (flashbacks are in Past tense). Rated T rather than M as there is no explicit sex or graphic violence. Profanity tag may be pushing the rating a bit (frequency of F bombs was reduced in editing). Sex tag for discussion of sexual activity (both heterosexual and homosexual) and implied nudity. Suicide / Self Harm tag for failed suicide attempts, mentions of past attempts, discussion of cutting, and for descriptions of scars. Contains cannabis mention and implied use (not enough to justify tagging Narcotics but enough to mention). Also contains minor character death (of an OC, in a flashback, off-screen), medical trauma, mental illness, and some depictions of homophobia and the usage of slurs.
TL;DR reader discretion is HIGHLY advised. Feel free to contact me personally if you have any questions about exactly what method of suicide attempts are depicted in case certain types may cause you harm. I don't want to trigger anyone if I can help to prevent it. (I am using 'trigger' here in its medical context.)
It has been pointed out to me that there are some inconsistencies concerning the timeline and canon. I will mention that here to spare you further confusion. This takes place in a light AU I call my EEGC (Extended Equestria Girls Chronology) which consists of multiple fics set in the same universe and timeline. In it I have changed, among other things: Twilight gave Sunset the journal in the events of the first film, the Anon-a-Miss incident occurs within weeks of the first film and long before the second, the OTHER Twilight & Sunset are 'altered' and 'taken care of' respectively, and the Human World and Limbo are now the same location. These changes were made because the EqG canon is literally impossible otherwise, given the events of the show (and has only grown MORE impossible in time).
Thank you all for getting me featured repeatedly!
Thank you for the likes, comments, and favorites!
Thank you especially for the constructive criticism!
Chapters (15)