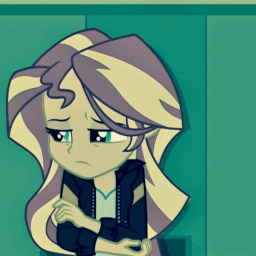 What if Applebloom hadn't admitted to being Anon-a-Miss?
This is the story of the aftermath of what might have happened, the recovery from the trauma of abandonment and resulting depression, and the road towards healing and forgiveness.
/x/x/x/
EDIT- I adjusted the character tags to better reflect the story contents. Instead of Applebloom and Applejack, it's now Cutie Mark Crusaders and Applejack (EqG). I also decided to add the "sex" tag for some slight sexual content- nothing graphic or explicit enough to warrant an M rating, but it will be pertinent as time passes.
Yeah yeah it's been done to death by a hundred grimdark edgelords but this is my take on what might've happened if the comic was a) written well or b) not candy coated for 6 year olds, while still retaining as much faithfulness as I can to the canon, as a part of my extended Equestria Girls chronology.
Tagged as suicidal/self-harm for an attempted suicide and wrist scabs in the first and second chapter, respectively. Not tagged as Dark because it would be better filed under Hurt/Comfort, which isn't present because Knighty doesn't like it ¯\_(ツ)_/¯ anyway, the dark themes fade away as the fic goes on. This is a story of healing, after all.
Chapters (9)