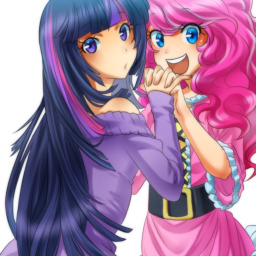 This story is a sequel to TFW You Find Your Crush's Nudes
---
Equestria Girls. Pinkie Pie and Twilight are out shopping for a party the next day. The carefree, happy mood evaporates when somebody is rude to Twilight, who is recovering from a medical issue. Twilight returns serve and attempts to tear the woman a new one, but when she's finished, Pinkie Pie is crying. Dismayed, the two leave the store. It's going to take a bit of intervention from a certain stone-faced older sister to let Twilight know that Pinkie isn't upset for the reason she thinks she is...
When the truth comes out, it starts in tears, but it will end in much-needed (and wanted) cuddles.
/x/x/x/
Takes place after TFW You See Your Crush's Nudes and offers negligible spoilers, but is a standalone thr3shot. NOT a Twinkie shipfic; SpitDash mention.
Rated T for mature themes, angst, a couple of naughty words, and nonsexual(!) partial nudity. Tagged for mentions of scars.
Chapters (3)