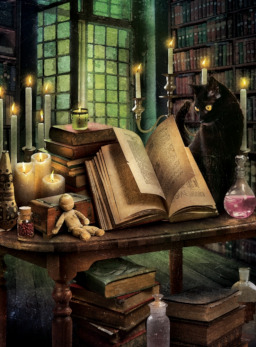 The Great and Powerful Trixie was a mare with a mission. She would show that deceitful arrogant purple librarian, and all of her uncouth friends, who the real magician really was! She would show them all just why she was called The Great and Powerful, and make them regret ruining her life!
She would face that know it all upstart in a magical duel, defeat her completely and prove once and for all exactly who was the greatest Unicorn to ever live!
Of course, there was just the small hiccup in her plan of finding a way to overpower what The Great and Powerful Trixie was unpleasantly certain had to be one of the strongest magic users she had ever seen this side of an actual Princess.
But that was but a pesky little problem for one as resourceful and knowledgeable as Trixie, for as everypony knew, you could find absolutely anything in Canterlot, as long as you had the money to pay for it of course.
And if the rumors held true, that old saying was particularly fit for an odd little curio shop deep within lower Canterlot's shadiest district.
---
---
This little idea started to really bug me after seeing a particular video in this Displaced thread. Egging me on with the question: Exactly how did Trixie find the Alicorn Amulet in a mere curio shop?
After a futile struggle trying to deny it, I conceded defeat and allowed my muse to have her way and developed the plot bunny that was born from watching said video, and here we are. This little one-shot depicts an alternate look at exactly where and how Trixie acquired the Alicorn Amulet.
Hope you all enjoy it.
Timeline wise this takes place after Boast Busters but before Magic Duel.
Chapters (1)