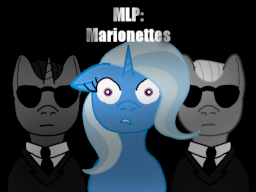 Source
Trope Page thanks to Ultimate Warrior of Zera!
Trixie's life was going perfectly fine. Better than fine. She has everything she had and more...until she finds herself the target of mysterious pursuers in black suits that seem dedicated to capturing her no matter what the cost. Now Trixie must begin unraveling the mystery of who these strange ponies are and what they're truly after.
Can Trixie stay free? Or will her pursuers make her a marionette hanging on strings?
Commissioned by my friend :iconalexwarlorn:
My Little Pony belongs to Hasbro!
Rated teen just to be safe!
EDIT: YAY! THERE'S NOW A MYSTERY TAG!
Chapters (13)