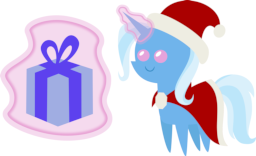 Trixie just wanted a quiet Hearth's Warming alone. Then a magical flying reindeer crashed into her cart. Whom Trixie somehow managed to convince she's actually a competent hero. Now Trixie is on an epic adventure to save the holiday from an evil villain. Can Trixie finally be the hero? And is this story rendered in stopmotion?
A Christmas story I whipped up. Basically this is meant to be a homage to older Christmas specials and kind of intentionally cheesy and over the top. So if it's cheesy and over the top, I totally meant for it to be. But it should also be an action adventure story.
And yes, I'm aware it's late! I have a life!
Cover Art thanks to VOJELLY on DA!
Chapters (3)