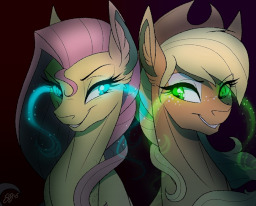 Source
Side Story of: My Little Pony: Friendship is Magic - Off the Record
After starting their mission to bring peace between the Hive and Equestria, the Elements of Harmony and Chrysalis find themselves split in to groups of two inside a world of chaos, with no recollection of how they arrived there. Working together in their groups, everypony must face a unique set of hurdles to overcome.
Working against them, the Hive Zodiac Council, who want nothing more than to control Chrysalis's armies, and take over the world, even if reaching that end means committing regicide.
The world of chaos they're trapped in, however, is not a product of the Hive Council. it was made by two Elements of Harmony, who both lost control of their bodies to chaotic beings within them.
These groups will fight it out for the victory, which one will come out on top?
Chapters (2)